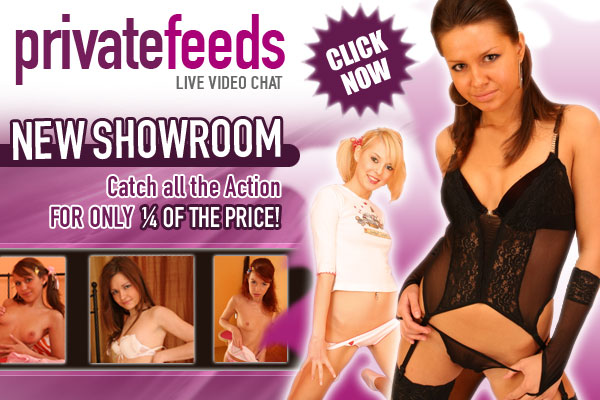 PrivateFeeds.com is an up-and-comer in the adult video chat world. The site has been around for a few years now, but remains relatively small compared to the cam giants out there. While small, the quality of the models is definitely on par with the big boys. The site offers unique features not found on other cam sites that makes it appealing, such as free shows to members, membership levels, and a model rating system. The platform is updated for mobile use and iphone, ipad (and other tablets) and android smartphones are supported.
Layout
The layout is probably as simple as you can find. PrivateFeeds.com consists of one main page for users visiting the site. The homepage is where you will find all the models, selection options, and even the cam window featuring the live model when activated. It's nothing too fancy, but has all the features you need packaged into a neat and organized page.
Pricing
Pricing on PrivateFeeds is interesting, it goes anywhere from free to cheap to very expensive. Models are given a rating of bronze, silver, gold, or diamond. The amount models charge elevates with their rating. Private shows can range from $1,99 per minute on to $5,99 per minute for the diamond status models. There are also a variety of shows to choose from. A simple chat where you are in the room with other members and likely to see a little nudity can be seen for $ 99 cents per minute. There is a semi-private option that is still cheap but little more expensive ($1,99), and then the private show that was mentioned. Apart from the free sex shows, the pricing basically boils down to what model you want to see and how private do you want to see her.
Payment options
There are many different payment options offered by PrivateFeeds.com. Keep in mind that all of the options will be secure, and look like a normal communications company charge. This way there is no risk of someone seeing your statement and finding out that you look at live webcam sites. The options available to you are credit cards, money orders, e-checks, and wire transfers. You're not left out to dry if you don't have a credit card, as you can see.
Content
PrivateFeeds.com offers real quality content and goes out of their way to take care of their paying members. The girls are all rated and priced according to that rating as mentioned above. This gives you an idea on the quality of show you'll receive right off the bat. They go a step further than most other sites and offer free shows. Just look at "Sophie's Corner" show schedule to see the upcoming free theme shows. If you're a member, you get access to these 1-hour free show every day of the week. A show that would normally cost hundreds of dollars is just given away in appreciation of PrivateFeeds members. HD cams and beautiful women are plentiful. You will definitely find someone appealing, that is if you like gorgeous babes!
Conclusion
PrivateFeeds.com knows they have a lot of competition out there and a lot of growing to do in order to compete. They do a great job of being different while offering the options that everyone expects from a webcam site. If they continue to take care of their members and treat them with opportunities such as free shows, they will be around for a long time to come and be up there with the big guys in no time!
Layout
Pricing
Payment Options
Content