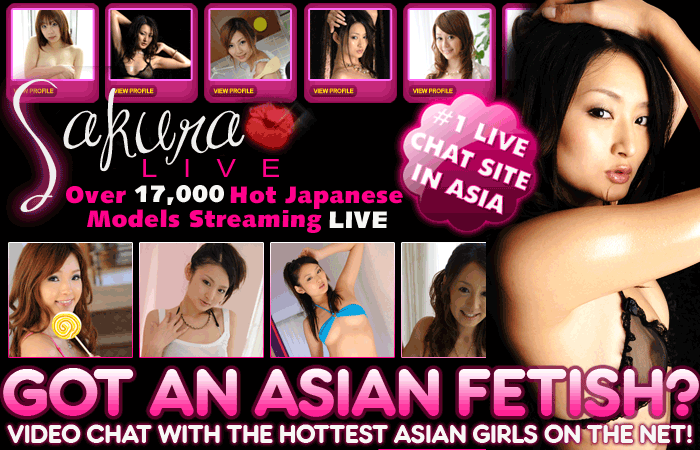 Taste is something personal and wether someone looks hot or not falls into that category. But I have always thought that top Japanese models are amongst the best looking creatures on our planet. And I'm not talking about your regular asian girl or the hundreds of asian amateur girls you'll find on webcam sex sites, no I'm specifically talking about famous japanese  top models. The only thing is you'll hardly ever find such a japanese girl on a webcam sex site. That is untill you discover the site sakuralive.  Sakura is a REAL Japanese/Asian webcam sex site with the best looking asian girls on the web.
Layout
Sakura's layout, looks standard and here and there even dated, navigation can be a mess with may links opening in new windows and hard to find buttons. But that is kind of inherent to the asian style, if you are familiar with asian websites/tv shows/commercials you'll know what I'm talking about. Compared to the average asian website sakura is one of the m0re easy sites to navigate and luckily availably in english too, . But still compared to our other reviewed sites it doesnt score too well.
Pricing
Sakura has a nice welcome offer where you get 10 credits for just 2.95. But Besides that I wasn't able to find any girls under 2 USD / minute wich makes the site average priced, certainly not cheap. But when you offer something that is virtually unique (you wont find these girls on your regular webcam sex site) it's understandable that and forgivable that you are charging a bit more. That's the way the market works.
Payment Options
Credit card only, a bummer, but not unlike most other webcam sex sites
Content
This is where sakura delivers. Just have a look at the site and browse their different webcam models to see what I mean wth the looks of a real good looking japanese webcam girl compared to the average asian webcam model on other live cam sites. Again taste is personal, but it never hurts to have a peek. And you wouldn't be the first who totally changes his point of view towards Asian chicks. ALso the show of these girls are different then those of their western counterparts. They are a at least as dirty (and sometimes a lot sicker if you are in to the more darker sides of cam sex)  but it is all packaged in an innocent shy package. You have to try it to understand, and again a matter of personal taste if you like itKeep in mind that some girls do not master the english language that well, which can be a let down but when you are into asian/japanese girls and you meet a "good" one at sakura then I'll guarantee you you wont look at other so called asian cam girls on regular cam sites ever again.
Conclusion
With sometimes messy navigation, the somewhat dated look and the fact that there are cheaper webcam sex sites to be found I simply cannot give the site a top rating. And that'really a shame because I feel Sakura deserves more. Becuase when it comes to asian/japanese webcam girls there is NO other webcam sex site that comes close to what sakura delivers. These girls are the real deal and Anyone into Japanese girls should visit sakura right away. Sakura will therefore get some bonus points for being the single best Japanese webcam sex site on the web right now.
Layout
Pricing
Payment Options
Content
Bonus Points For Best Japanese Webcam Sex Site
The best Japanese Webcam Sex Site
Not the cheapest, not the easiest to navigate, and there are a lot of better options for some regular webcam sex. But If you are into asian / japanese girls. There is no other site that comes close to what sakura has to offer. Their models are insanely hot and their shows even better. If you like Japanese women, sakura is the only choice for you