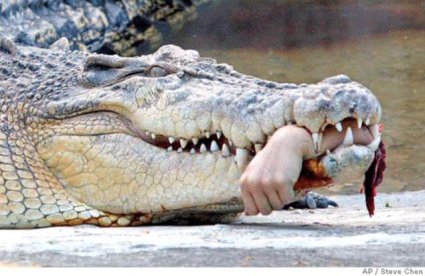 You gotta love those fucking Aussies, especially after news reports like this one, your wtf moment of the day. Poor in some beers and this crazy fucker will do whatever you want. That is also what his "friends" thought when they offered him a bet: nude crocodile peddling for some bourbon.  Guess what? The local fisherman ripped off his clothes and decided it was a great idea to jump on to a "floating" log and to peddle down a crocodile-infested river. All that in exchange for a few bottles of booze.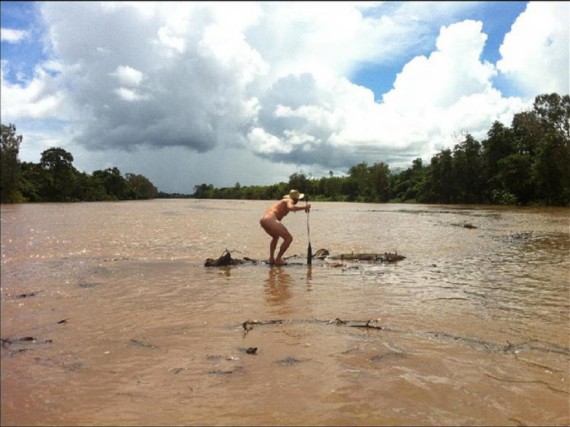 The fisherman (why wants to remain anonymous) said "I had a few beers so it seemed like a great idea at the time."
"This fish didn't want to bite because the river was too wild at that moment, so I thought "what the hell."  "The next morning when I thought about it, it occurred to me that it was not the smartest idea ever".
So there he went, naked and fearless, riding the log raft for about three minutes before clambering back into a boat. "There were also huge trees hammering down the river", Eyewitness Mr Billy Innes said. Sounds pretty dangerous to me!
According to Mr Innes the fisherman did not see any danger at that moment. "It was hilarious", he said. "And it eared him 2 boxes of Jack Daniels and that made it all worthwhile for him."
The naked hero was camping at the Daly River when he accepted the bet. The Daly River is an area that is infested with crocs and therefor an extremely dangerous swimming pool. In 2009, a 20 year old male died after crocs attacked him, while swimming across the Daly River because he wanted more beer. You gotta love those fucking Aussies.