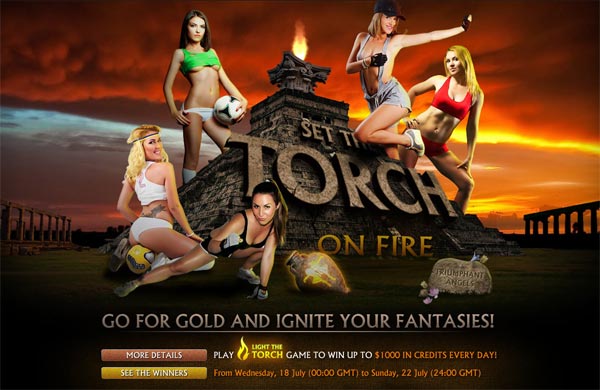 to win UP TO $1,000 in extra credits every day
From Wednesday 18th JULY @ 00:00 GMT
to Sunday 22ND JULY @ 24:00 GMT
Light The Torch
Get into the competitive spirit and play Light The Torch with any chathost you want
- your favourite one, two or three!
Here's a quick guide:
It's the Light The Torch slingshot game. Aim to win big!
You need to hit a series of torches or statues with a flaming fireball to win! Once you hit one and light it, you increase the points to x3 the amount shown!
Your chathost can then either bank the amount won, or they can try and hit the same torch or statue to win more credit! If the same one is hit again, you'll win more!
Out of the top 50 rankings, the following prize money will be awarded every day! $1,000 for the top three places, $500 for the fourth, fifth, and sixth and $250 for the final four positions, chosen at random. The prizes are credit for viewers and cash for Chathosts.
Challenge your Chathost by betting your game credits to win more every time!
Are you ready for the thrill of the challenge?
Here's your chance to WIN more $$!