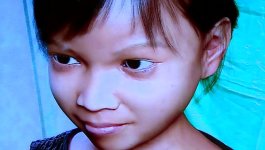 Fake underage webcam girl Sweetie, catches Perverted Criminal
IN
3205 views
3 Comments
Sweetie the ten year old computer generated Filipin webcam girl seems to have caught her first real cyber pedophile as reported by BBC . Dutch investigators from Dutch charity Terre des Hommes , the creators of sweetie, have gathered info on over 1000 potential pedophiles while roming the internet as "sweetie". This info has been passed on to interpol and Police departments all over the world,  but it seems like Police either isn't all that motivated to investigate this info or they are obstructed by laws when it comes to privacy of the alleged pedophiles and the and admissability of the evidence gathered with fake sweetie.
Luckily now there finally seems to be a break through with Scott Robert Hansen, a registered sex offender, pleading guilty to three charges in Brisbane Australia district. Robert send multiple obscene pictures of himself to sweetie, had child porn on his computer, and  failed to comply with a sex offender order.
Terre Des Hommes hopes that this news shows Law enforcement agencies around the world how useful the info they gather with their sweetie project actually is.  And so do we, we promote webcam sex and we know about the joys of it. But there is no place for animals damaging innocent children for life in our world.