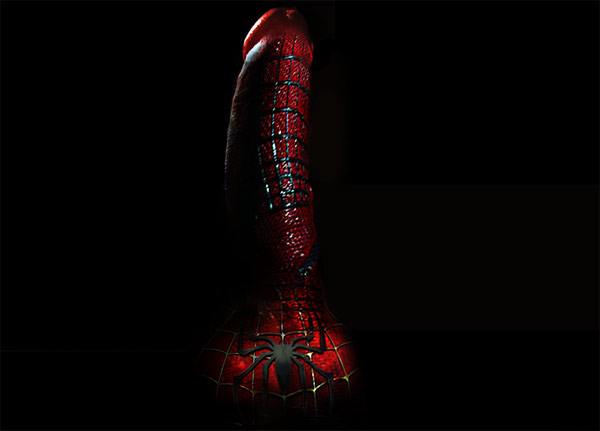 Spiderman fan transforms his genitals in Spider Penis
IN
1623 views
1 Comment
A 21 year old life-long Spiderman fan from Sydney Australia who wishes to remain anonymous ( so we'll refer to him as Spidey-fan in this article)  is in the progress of transforming his Penis into a Spiderman cock. The project is almost finished and Spidey-fans penis is already fully covered from the  testicles to the tip of the head. This was done with a combination of tattooing (ouch),  flexible skin implants (oouch!) and scarification through burning and cutting ( OOUCH!!!!)
Webcamsexreviews had a short correspondence online with this die-hard fan. On the question why Spidey-fan would do such a thing he replied:
"First of all, I have always been a big fan of spider man and all the artwork surrounding the Super hero. I just think it's beautiful. Second,  Tattooing my genitals gives me a big kick and not only in an erotic fashion.
, Of course we asked how girls respond when they encounter spidey sausage for the first time before sex:
"Well most people in my social circle know about my 'hobby' and most girls are very curious and gigly about it.
As for the act itself, they say they don't feel any difference. I have not had a single negative reaction yet"

So the project is finally finished, what's next? Batman nipples?
"Well first I need to figure out how to get the spiderman spider logo on my testicles. (The one seen in the pictures is a rubber/latex one glued on for the photo's) I want something similar to the pictures in a permanent fashion. Tattooing is one option but I prefer something with depth. After that I'll probably take a break from body modification."
How much does it hurt?
" A LOT, especialy the scarification burns, but after a while you enter some sort of trance-like mind-set and then you kind of separate from your body and the pain, I don't really know how to explain it. After you are done with a session you feel very fulfilled"
Last question. Do you ejaculate silk or just sperm?
Hahaha, unfortunately I cannot shoot webs from my penis nor do I have spidey-sense in my balls.
Thank you for your time Spidey-fan
We at webcamsexreviews were amazed and scared by this 'piece' of art. We would like to come in contact with people who have similar out of the ordinary body modifications and who would like to share their story.