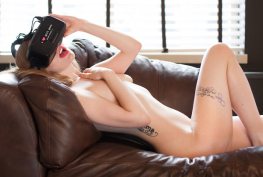 You probably have noticed the increase in tech news about VR head sets. Names like Ocuus Rift, Gear VR, Sony Playsation VR/Morpheus, The google cardboard fold thingy etc. For now the technology seems mostly focused at gaming and movies. VR Porn videos are already a fact and it's difficult to predict but this technology looks like it's here to stay.
What does this mean for webcam sex. The amazing immersion a VR head set gives you when playing a game or watching a movie surely would improve the interactive experience of a webcam sex chat right? We would like to think so. At the same time we also see some pitfalls that probably need to be overcome to make VR webcams a success.
While VR Movies and games can be designed from start with the viewers viewpoint and experience in mind, the spontaneous un scripted nature of webcam sex is it's strength but at the same time a challenge for a vr experience. In a movie you are experiencing what an actor is experiencing, you take over his body, you fuck girls with his body you walk sit run as he does.
In a webcam sex setting you are seeing through a 360 webcam. How different is this from the current act of staring at a screen. Of course its fun to have a look in the webcam girls room, but in the end you will be looking straight forward to the performer. Not that difference from staring at a screen, maybe with the added sense of being in the room with the cam performer. But that alone is not enough to make VR webcam sex a success in our opinion.
To become a success we think it's up to the webcam models to get inventive. We can think of some scenarios where vr webcam sex actually might work. For example an orgy show where you are surrounded by hot women and looking arround actually is adding something to the experience. Or what about using a partner to actually fuck the girl for you while wearing a com so you can see through his eyes. And depending on the acting skills of a girl, she could actually play around with the cam (depending on how portable they get) and make you feel like she's playing around with you.
In december 2015 thare has actually been a VR webcam show (by camsoda) , he first in the world, but we do not know how it was received. Also there are rumours that livejasmin (read review here) is implementing VR cams as we speak.
We will be following the latest development on Virtual reality Porn, and especially virtual reality cam sex, closely. So keep an eye on our webcam sex site review list because as soon as we have experienced the Virtual live cyber sex world ourselves we will of course add a review.