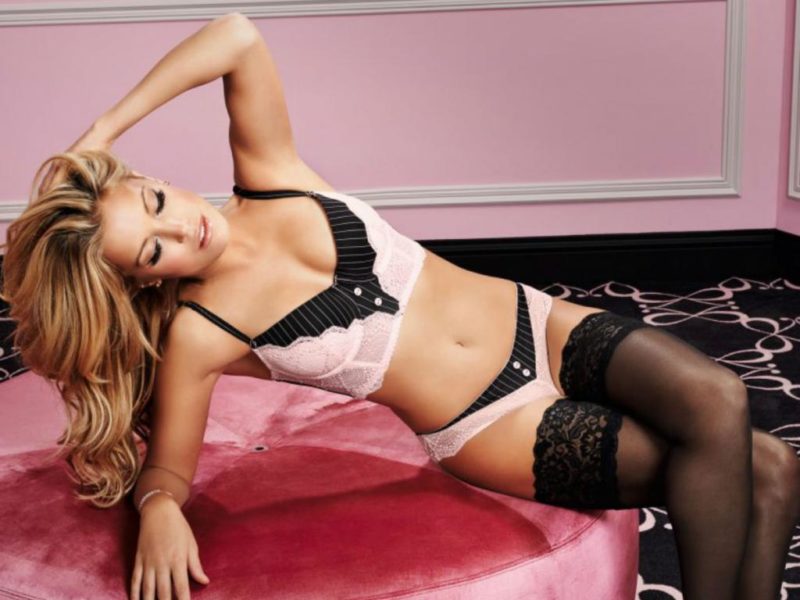 Sylvie Meis (van der Vaart): "Playboy Can't afford me"
IN
1854 views
Leave a comment
First of all for all you US readers out there who won't know Sylvie Meis ( Sylvie van der Vaart).   Sylvie is a dutch TV personality and Model wanna-be who fucked herself up the the ladder of fame by screwing and marrying poor (figuratively) Dutch football international  ( I refuse to call it soccer) Rafael van der Vaart who's currently playing at Hamburger SV.   Sylvie has gathered fame in The Netherlands, maybe even more in Germany and Some in the UK.  The Seemingly nice, sympathetic and hot girl conquered hearts all over Europe, especially after her victorious battle against cancer.
But all this worshipping and over-exposure in the media has done her no good.  More and more people can't stand her and her trademark fake smile.  Last year she was one of the proud nominees for the 'most annoying  tv-personality" Award in Germany.  Of course appearing negatively in the media  is almost unavoidable for people who gain fame because of their relationship with a celebrity. They are often accused of entering relationships for the sole purpose of personal gain. I'm fully aware I did the same in my opening sentence by stating that Sylvie fucked her way up by pussy-catching Rafael van der Vaart.  But come on…. you can't convince me that a hottie like Sylvie would also marry an ugly midget like Rafael if he wasn't loaded. I know it's a harsh thing to call Rafael an ugly midget, but being an ugly midget myself I know the level of women we can get when broke & not famous.  I can tell you, unless you have a thing for crooked eyed women, acne and hunchbacks,  it's not spectacular.
I always feel like the media gives to much attention to celebrities to the likes of Sylvie who have nothing noteworthy to say. Now I'm doing the same and I hate myself for it.  But I cannot ignore Sylvie's latest statement which is "Playboy cannot afford me". Her answer when asked why she never was in Playboy. The arrogance! The "fame" surely must have gone to her head. I know I shouldn't say this but Someone should bitchslap some sense into this broad, ow wait Rafael already tried that and clearly it hasn't worked, apart from them splitting up which is a good thing for him. Anyway either she is indignant because she's never been asked by playboy magazine or she truly believes that she  resides in a class of women far above Playboy level. For christ's sake who does she think she is? Greats like Marilyn Monroe & Brigitte Bardot proudly posed for playboy magazine, but Sylvie they cannot afford. Yes they can!!!  If Sylvie thinks differently,  she clearly overvalues herself.
If you don't want to pose for playboy because it's a nude magazine or whatever reason, no problem just say so. But the tone of this statement is spitting in the face of playboy ( which happens to be my bible) trying to make it seem that she is way to classy or too good for playboy, when in fact playboy is way to to high fetched for her. She's more of a penthouse girl, they tend to open their legs a bit more easily.