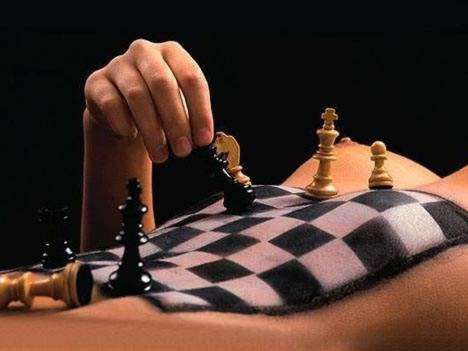 Like we promised in this article, we will reveal some of the funniest and craziest adult webcam related stories. This girl that told us about this story wants to remain anonymous, and of course we respect that, so we can only reveal this particular private session happened at FlirtForFree.
So on a typical monday afternoon the girl of this story was working her cam, had a few "normal" privates with guys that just wanted to see a hot show and maybe have some intimate cam2cam interaction, but nothing out of the ordinary when suddenly a guy comes into free chat and asks the girl "are you any good at playing chess?". Coincidence or not, the cam girl in question actually plays a pretty good game of chess, it was something she played for years with her father as their quality family fun time. Btw, I think I noticed before that the girls on Flirtforfree tend to be a little more educated than girls on your average cam site, but that's another story. The webcam girl politely replied to this odd question with "Yes dear …., actually I know my way around the chess board pretty good". The guy replied again with "well, I'd like to put that to the test", and he initiated a private session without moving a muscle.
So, the private session started and to make things more easy to follow, he turned on his cam as well (cam2cam). According to the camgirl his webcam screen showed a chess board in the center of it all with a middle aged man behind it. He looked like a nerdy type of guy, a guy that probably is a great chess player.  "I assume you know all chess coordinates" he asked (the letters and numbers on the side of the board are called coordinates, so she can just tell him where she wants him to move her pieces). "Yes, I think I do, but let's check each move to be syre if that's ok" she replied. The game started of quietly and lasted about one and a half hour, what you you know, webcam girl won!
Apparently "Mr chess" was pretty surprised about the loss he just endured and demanded a rematch. All this happened still in private chat, the meter was running wildly but he didn't seem to care about that. Of course the camgirl didn't mind it one bit, she was making money with her clothes on, playing one of her favorite games (the rates for private sessions at FlirtforFree can be pretty expensive). So the next game of chess started and one hour later she won again. The game after that one he won. To make a long story a bit shorter, in total they played chess for nearly 24 hours in private session!!! I do not even want to think about how much money that must have cost him, but it sure is a fun story…