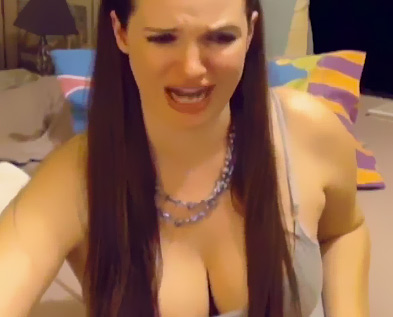 Nervous breakdown girl Nina responds
IN
2439 views
1 Comment
You probably have heard of the webcam girl video that went viral just a couple of dasy ago. In the video webcam girl Nina was harassed by some of her viewers during a live webcam chat, up to the point the poor girl couldn't handle it any more and broke down in to tears.  Now Nina has responded (more or less) to all the commotion surrounding this video, but first the video for those who haven't seen it yet:

As far as responding goes Nina declined most interview request. She did jokingly state that she could very well become the next Chris Rocker (The crazy Britney spears Fan) But she didn't mind all the attention at all (Positive or negative). We can Imagine, all this free promotion can't be bad for webcam show sales!
There are numerous discussions going on on the Internet whether the freak-out was fake or not. Whatever the truth is we hope everything is ok with Nina and she will have a prosperous and healthy minded continuation of her webcam girl career.