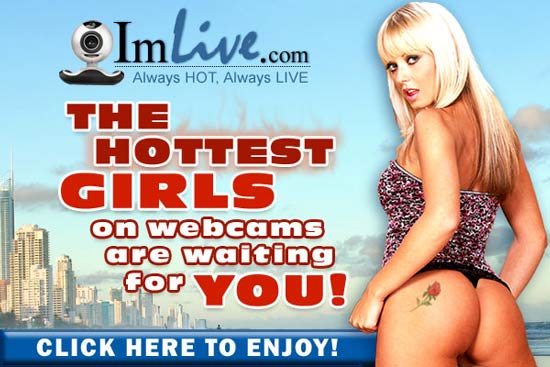 Imlive.com: Massive choice
IN
4489 views
3 Comments
Close to 100000 Registered chat hosts and millions of members. For more then a decade Imlive has been nestled firmly between the major names in the webcam sex business and with good reason. Their selection of models and diversity in categories is simply amazing. You will find close to 1500 webcam models online no matter what time of day you visit Imlive. Sound promising, let's have a look.
layout
From the moment you enter imlive.com you know your dealing with a big site containing a freight load of content. I can imagina  it's not an easy job to keep a webcam site with so much to offer neatly organized. Still I can't help but feel that the people over at Imlive could have done a better job here. Of course clicking any random link on the main page will bring you to sexy camgirls one way or the other. But the links on the home page could have been a bit more descriptive. Strangely enough many of the links found in the live sex category on the main page link to the same pages of the site and even if they bring you to different places there is know way of knowing upfront where you're going to end up because all the links have more or less the same  titles like Live sex chat, Live sex, Adult webcams, Webcam sex etc.
They do a better job in the 2 other main categories on the main page: Friends & Romance an Live experts which both do have descriptive sub links.
When you click a link in one of the main categories you'll end up either at another category page where imlive lets you can refine your choice of model by offering a multitude of sub categories Or you'll end up at a page  showing  models and a somewhat more limited choice of subcategories. While both pages in itself do their job OK and are fairly easy to navigate I would be way less confusing if there was just one landing page that shows the models while still containing the full refinement options. Of course this might be minor details but I have seen other big webcam sites do better navigation wise.
Pricing:
Registering as a member at Imlive is free and. The average price of Imlive models ranges around $2.00/minute there are options resulting in lower per minute tariffs. New models which are added daily will charge 99 cents/minute. Buying 30 or 60 minutes at once gices you nice 20% and 30% discounts. There are discount clubs where you can get special discounts for your specific favorite performers and  there are happy hour shows wich go for 1.49/ minute. So it might not be the cheapest webcam sex site we have reviewed but it does offer enough options for those who don't want to spend to much.
payment options:
With Imlive excelling in choice and offering so many events & options unseen at other live sex sites its disappointing to see them offering no phone payment possibilities. The do use Epoch payment processor which offers some more options than only cc. But still to little for a site of this format.
Content:
This is where Imlive excels. As said in the introduction there are almost 1500 cam performers online at any given moment. There are divided in subcategories which is nothing new. But the diversity of these categories is unmatched. Yes you can find your regular solo girls, lesbian shows, shemales & group sex. But Imlive takes it one step further offering a wide range of appearance and  fetish sub categories from young squirting teens to smoking latina's to pregnant ebony girls. If that's not enough they also have a bunch of non erotic video chat boxes , dating video chats, expert chats with subjects like Mysticism, Spirituality, Health & Computers. If you cannot find something to your likings at Imlive it's unlikely you'll find it somewhere else.
Besides having a great choice in peformers Imlive also is kown for treating their members to fun & sexy events and great discounts. They have regular celebrity pornstar shows (they also have a pornstar categorie) Themed events always with attratice  tarifs. And like most modern webcam sites nowadays the free live preview also is present on Imlive.Imlive is compatible with Ipad and Iphone.
Imlive is huge I encourage you to sign up for a free account at Imlive, as a free member there is enough to see and do at Imlive, browse their amazing selection of webcam performers and let me know what you think by leaving a comment
Layout
Pricing
Payment Options
Content