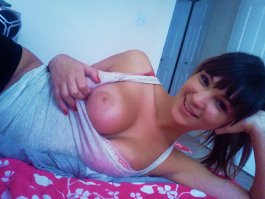 Cheap Sexy Skype Show From Hot teen Belinda
IN
7926 views
1 Comment
This will be the first webcam girl review that features a girl who doesn't work at a webcam sex site. In stead she chooses to please her customers during live skype video chats. So how does this compare to the regular webcam sex sites, keep reading and you'll find out.
First of all it is not easy to find girls who give skype sex shows. 9 out of 10 times girls are never online, or they are available but have stopped giving skype shows and moved to a regular webcam sex sites because a lot of times they get more customers there, or it is just some perverted gay dude pretending to be a girl trying to get a glimpse of your boner. luckily after some extensive browsing I ( actually, another webcamsexreviews author found here) managed to find an address of a girl who was willing to give a free peek to convince me she was not a dude or someone totally different then in her pictures. Her name is Belinda and her skype id is belindahot1991
I knew right away when I saw her on cam that I was gonna pay to see her naked. What an absolutely gorgeous and cute girl. 23 years young, Half dutch half Brazilian, Tight body, petite but not too skinny, good regular sized tits, and a sweet smile. Just the way I like it.
Her shows are phenomenal. She' does everything your dirty mind can come up with, except for scat. I'm not into scat anyway so no problem. I will not go into the details of the show but think from sweet soft clit fingering to double penetration with huge toys and a squirting orgasm to finish and everything in between. Nothing I haven't seen before, but I've reviewed dozens of camgirls so that's no surprise. If I need to point out something negative it would be that her cam quality is average, I know i'm spoiled and comparing this amateur girl to a pro camgirl working in a camstudio is maybe not fair. But in 2013 a webcam with superb quality is not that expensive anymore.
On the plus side, since Belinda doesn't work for a studio/site she doesn't need to split her revenue with the studio/site owners. This means lower prices for you.
a one hour show will cost you 50 Euros (she lives in holland)
a 30 minute show will cost you 30 Euros.
This like 1.10 / 1.35 dollars a minute. This is cheap and well worth the money because the shows are incredibely horny from beginning till end. She has her own payment system on a page with a multitude of payment options for most countries
Another thing I would like to say is that even though it is excactly the same as having webcamsex on a cam site. Having a girl in you skype list whom you can chat with and get naked on demand has a much more personal and intimate erotic feeling to it then choosing a cam girl at a regular webcam sex site. Altthough this might just be my personal feeling.
Anyway for thos of you who are interested, you can add belinda on skype her skype id is: belindahot1991